Oregon hazelnut growers digging out from severe ice storm
Hazelnut growers in the Eugene area say last week's storm caused extensive damage to their trees.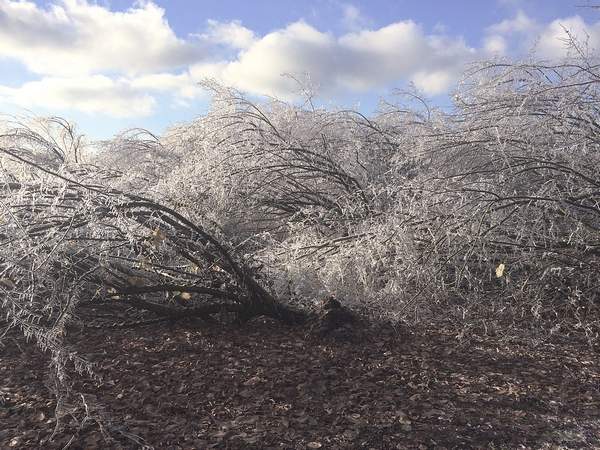 A flash freeze in the Eugene, Ore., area caused heavy damage, especially to older hazelnut trees. The weight of ice snapped limbs and in some cases uprooted or split trees.
Hazelnut growers in the Eugene, Ore., area are still cleaning up damage from a nearly instantaneous flash freeze that snapped limbs, split trunks and uprooted some trees."We had a lot of breakage," said Jared Henderson, who grows hazelnuts in the River Road area north of Eugene.Older, larger trees were particularly hard hit as ice accumulated on limbs and the weight bent them past the breaking point. Henderson said his younger, more limber trees fared better.The ice arrived as part of a winter storm that draped much of Oregon with snow beginning Dec. 14. In Eugene, about 110 miles south of Portland, it took the form of freezing rain and did horrendous damage throughout the area. About 15,000 customers lost electrical power as limbs snapped off and fell across utility lines. Some people were without electricity for up to four days, and area motels filled up with people who had no heat or no way to cook at home.The ice damage was oddly localized. Springfield, next door to Eugene, had much less damage and only a couple hundred electrical outages. Henderson said his brother, who grows hazelnuts near Corvallis about 40 miles north, wasn't hit as bad. "They got snow and we got ice," Henderson said.Henderson, who is president of the Lane County Farm Bureau, said he couldn't place a dollar figure on the damage. "I wouldn't know where to begin," he said. The damage will include the labor cost of crews that would normally be pruning or training caneberries instead of cleaning up broken limbs, he said."It's part of the business," he said. "We've had it before and we'll probably have it again."Dwayne Bush, a third-generation hazelnut grower, said his trees in the Fern Ridge area west of Eugene came out of the storm OK, but his orchard next to Henderson's was heavily damaged.He said trees he planted 16 and 17 years tended to lean to the south due to the sun's position and a prevailing wind. The weight of ice sent them toppling into each other and "Dominoed down the row."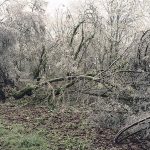 But Bush said a freeze three years ago was worse. In that case, Bush and his crew trimmed the tops of trees, dug out dirt on the back sides, pulled them upright and backfilled the dirt. Of 4,000 to 5,000 trees that fell over, only a small percentage didn't bounce back and survive, he said.
Ironically, the crop that year was one of the biggest he's had.
"Filbert trees are pretty resilient," he said, using the alternative name for hazelnuts.
Bush said he's already started the same process this year.
Copyright: capitalpress.com